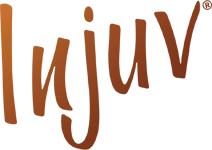 Injuv® Hyaluronic Acid Softgel Capsules
Soak in Beautiful Skin With Injuv Hyaluronic Acid Pills
Injuv is a skincare nutraceutical that moisturizes from the inside out, helping your skin stay hydrated. It contains a clinically proven, low molecular weight hyaluronic acid (HA) gel complex, which acts as a sponge to hold onto water within the cells of the skin, connective tissue, and cartilage. HA has been shown to be an essential component to healthy, youthful skin as well as support the health of the joints.
Our exclusive Injuv softgels contain a naturally-derived hyaluronic acid (HA) complex with high oral bioavailability, which is clinically proven to increase moisture content for youthful-looking skin. A proprietary enzyme-cleaving technique allows it to have a low molecular weight for the highest possible absorption. Since the amount of HA synthesis decreases with age, skin becomes dry, further exacerbating the moisture loss problem. Our Injuv hyaluronic Acid Capsules helps replenish what time has stripped away.
Injuv Hyaluronic Acid Pills Highlights
Easily Absorbed. Injuv is manufactured through an enzyme-cleaving technique that dramatically reduces the molecular weight of hyaluronic acid—without altering its chemical nature—allowing for easy absorption.
Clinically proven effective. A randomized, placebo-controlled human clinical trial found that subjects who took Injuv showed a statistically significant increase in skin moisture content compared to both baseline and placebo.
Delivered to the Skin. The absorption and delivery of Injuv has been demonstrated using a well-established animal model to measure wound healing capacity.
Safe. An acute toxicity test on Injuv resulted in no observable abnormalities and no mortalities.
Natural Source. Injuv is derived from rooster combs, which have been safely used as a source of hyaluronic acid for several decades.
These statements have not been evaluated by the Food and Drug Administration.
This product is not intended to diagnose, treat, cure, or prevent any disease.